O'Donnell Bio
Posted: March 4, 2021
Filed under: Uncategorized
Leave a comment »
The following is a bio that can be used for conference programmes and speaker notes.
Daniel Paul O'Donnell is a professor of English and associate member of the University Library Academic Staff. His original training was in the study of early medieval English language and literature. In addition to continuing research and teaching in this area, he has, in recent years, expanded his focus to explore the practice and dissemination of research in the Humanities and across the disciplines in the digital age, and the role and practice of Equity, Diversity, and Inclusion (EDI) in academic research. His Google Scholar Profile is available here; his personal pre-print and off-print library is available at Zenodo.
O'Donnell has played a leading role in many of the most important international research projects in the Digital Humanities and Open Science of the last twenty years, including stints as Director or President of Force11 (FORCE11.org), the Force 11 Scholarly Communicati Institute (FSCI), The Text Encoding Initiative (tei-c.org/), Global Outlook::Digital Humanities (globaloutlookdh.org), Digital Medievalist (digitalmedievalist.org), and the Canadian Society for Digital Humanities/Société canadienne des humanités numériques (csdh-schn.org). He has received funding in Open Science and Medieval Studies from SSHRC, CFI, Mellon, Sloan, and Moore.
O'Donnell is also active in his faculty association. He has been Chief Spokesperson for Bargaining for three rounds of negotiations 2015-2015, 2016-2019, and 2020-. He is currently also Vice President and President nominate.
Photos
2019 headshot
2012 scanning work in Ruthwell, Scotland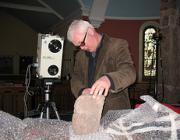 tags:
---